Hi there! This is an old post that may reference technology or views I now consider outdated - or maybe even a little embarrassing. Enjoy at your own risk.
It seems like every holiday break I prove to myself just how badly I need a career in order to keep myself alive and functional.
I'm reminded of an old Spirit of the West song, titled Home for a Rest, which is well known to my fellow Canadian ex-pats:
You'll have to excuse me, I'm not at my best
I've been gone for a week, I've been drunk since I left
These so-called vacations will soon be my death
I'm so sick from the drink, I need home for a rest.
Except in my case I haven't been drinking myself stupid, but I did play the living hell out of some great video games. And now I've trained myself to sleep between 4am and 12pm plus I've got a throbbing headache at the back of my skull that is starting to outsmart ibuprofen.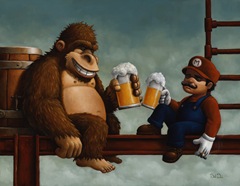 Ironically, I can't keep this up much longer. I need to get into the office for a rest.
Like every single game developer on planet Earth I dream of someday developing one of the games I've been thinking of for decades now. That may happen in some fashion in the future, but I guess I need to learn to manage my free time just a little bit better first.
Or maybe I just deserved a break – and there are certainly worse ways for a video game developer to pass the time than by playing (and enjoying!), you know, video games.

Oh well. I'll strike the right balance some day, but at least I finally managed to unlock every single achievement in Batman: Arkham Asylum.